The M3 Grease Gun is a weapon in the Day of Defeat series. It is only available in the original Day of Defeat. This gun comes in both 9mm and .45 ACP cartridges.
Strategies
Edit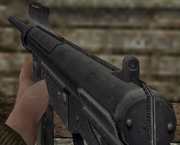 The M3 has a lower rate of fire compared to the Thompson, which makes it easier to control. Use this if you're starting out and need to learn how to control recoil on automatic weapons.
Ad blocker interference detected!
Wikia is a free-to-use site that makes money from advertising. We have a modified experience for viewers using ad blockers

Wikia is not accessible if you've made further modifications. Remove the custom ad blocker rule(s) and the page will load as expected.